An Excel Age Calculator Add-In allows you to calculate a person's current age (in years) when given their date of birth.
Age Add-In
This is especially useful for human resource managers who may need to know an employee's age in order to do a particular job function, or school administrators who need to know if there are any students over or under a given age.
The Excel Age Calculator add-in allows you to easily use =AGE(**some_cell_reference**) as you would use any other formula in Excel to determine someones age.  This can be used in conjunction with other Excel formulas to determine which age group someone falls into, if they have reached a certain age (or how much longer until they reach that age), or have passed a certain age (or how far past it they are).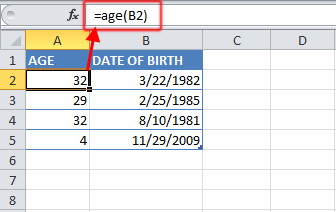 Comes with an easy to follow "Read Me" guide that walks you through installation and usage.  Of course, if there are ever any problems, with the product we will always be happy to assist you.