Excel Tip #2: Color Code Tabs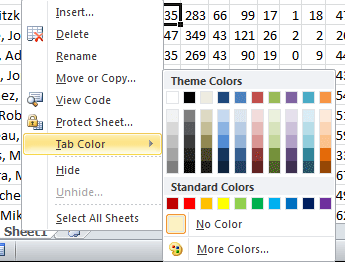 In especially large Excel files with many, many tabs it might be useful to color code the tabs so you can easily find related spreadsheets.
To color code your Excel tabs:
Right click on the tab you want to add color to.
Select Tab Color from the menu.
Click the color you want to use from the color pallet that pops up.
This is a nice way to group related income or expense tabs, or to keep last year's spreadsheets in one color with this year's data a different color.
Tip: You can highlight multiple tabs and apply the same color to all of them at once by using CTRL+Click on each non-consecutive tab, or Shift+Click for a group of tabs that are all next to each other.