Copy and Paste Excel Formatting
If you need to use a consistent format across a number of cells in a row or column, you can easily copy and paste the formatting from one set of cells to another.
To do this:
Select the cell (or cells) you wish to copy the formatting from.

Quick tip: To select an entire column, press Ctrl + Spacebar. To select an entire row, press Shift + Spacebar. Or click on the column letter/row number at the top/left side of the worksheet.

Press Ctrl + C.
Select the cell (or cells) the formatting should be applied to.
Right click, and select Paste Special from the menu.
Select Formats, and press the OK button.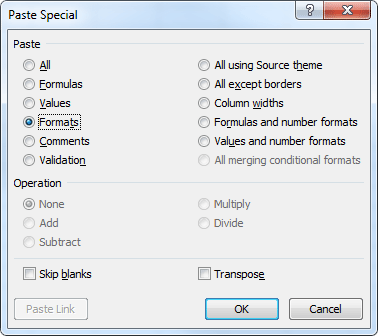 Your selection should now have the same formatting as the original set of cells.